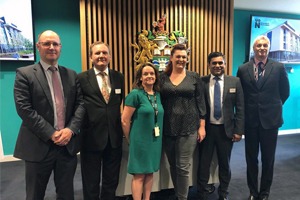 It was a beautiful sunny day and that always shows a place in its best light, and both Northampton itself, and its university's new Waterside campus looked bright and brimming with possibility on the morning of May 23rd, the second day of the Academic Partnership Conference 2019.
As Student Experience and Well-being Lead (University Partnerships) I had come to meet some of my university counterparts and colleagues, and also to take a look at the new campus.
As we were having tea and coffee before the first session, I spoke with some university staff who reported informally that the presentation by Regent's Principal, Professor Mark Mabey, and our Head of University Partnerships, Kylie Hazeldine: HND to Honours Degree: student transition to and through, had been a highlight of the previous day and was the only presentation that had stimulated lots of questions from the assembled delegates, who had come from different parts of the UK and around the world.
First came a summing up of the previous day's events from Professor Hastings McKenzie, Dean of Academic Partnerships, in which he confirmed the very positive reception Mark and Kylie's presentation had received. There had been quite a number of other speakers in day one; some from the University of Northampton (UoN) and the University of Northampton International College, one from Gulf University, another from the Human Resource Management Institute (HRMI), a speaker from Myanmar Imperial University, and a representative from the Quality Assurance Agency (QAA), who presented an overview of QAA's approach to the quality assurance of trans-national education.
The Vice Chancellor then gave a short address which included a rather surprising fact – that the ancient University of Northampton had existed for a brief period in the thirteenth century before being closed down by king Henry III in 1246 at the behest of Oxford University, who apparently didn't welcome the competition! This had come to light during UoN's application for university status, which was complicated by the fact that Elizabeth II had to sign a document overturning Henry III's thirteenth century ruling. The Queen duly signed and Northampton became a university town once again in 2005.
It was now time to meet the university staff and there were representatives from the admissions, student administration, learning technology, and library departments available to answer all our queries. I took the opportunity to speak to some of the front-line student welfare officers who explained how student support is organised at the university. Suffice it to say that the size of their operation in terms of student numbers requires a much more complex, multi-layered system than our own. I gained some useful contacts there, and our UoN partnership students will be able to access the university teams' expertise whenever the need arises.
After lunch it was time for a tour of the new Waterside campus, which has only been in operation since September 2018 but, due to skilful landscaping, contains established trees and foliage amongst the pristine buildings. As its name suggests, a river runs alongside the campus and adds to its fresh and natural ambience.
Inside the university buildings, we saw some amazing things; cutting-edge architecture creating some stunning interior views and spaces, with library resources available throughout, incorporated into the university's different departments. We saw a room containing a full-sized ambulance where trainee paramedics and other medical students can experience real-world emergency conditions; a mock-up of a sitting room where students training for work in the police or social services can meet 'members of the public' played by actors who are students in the drama department, and even, in its own dedicated building, a tannery where leather and suede is produced from animal skins using the latest modern technology in conjunction with some time-honoured processes and techniques. The leather is then used by the design and fashion departments in the creation of bags, belts, watchstraps, shoes and clothing.
All in all, we saw more than enough, in terms of resourcing, organisation and dedicated, expert staff, to be assured that Regent is indeed fortunate to be in partnership with such a forward-looking and well-resourced university.
Stephen Harris
29.05.2019
< Previous article
Next article >